WELCOME

We only ship within the USA!! We offer fast free shipping on all orders of $20 or more.
There is a $3 shipping charge for all orders under $20.
We include free samples for you to try with every order


Christopher's PREMIUM BATH BOMBS

Our bath bombs are the large bath bombs, these are typically 5+ ounces in weight. Our bath bombs include baking soda, premium Epsom salts, citric acid, fresh spring water, olive oil, pure essential oil, premium fragrances, polysorbate & natural colorants. Just fill your tub, pop a bomb in the tub and get in and enjoy the spa treatment you'll receive from our premium bath bombs!! You'll love soaking in these at the end of the long day. You'll also love the aromatherapy and various health benefits these bombs can provide you!! Once you try them, we think you'll be back again and again! We sure do appreciate your business.

APPLE BLOSSOM & VANILLA BATH BOMB: $5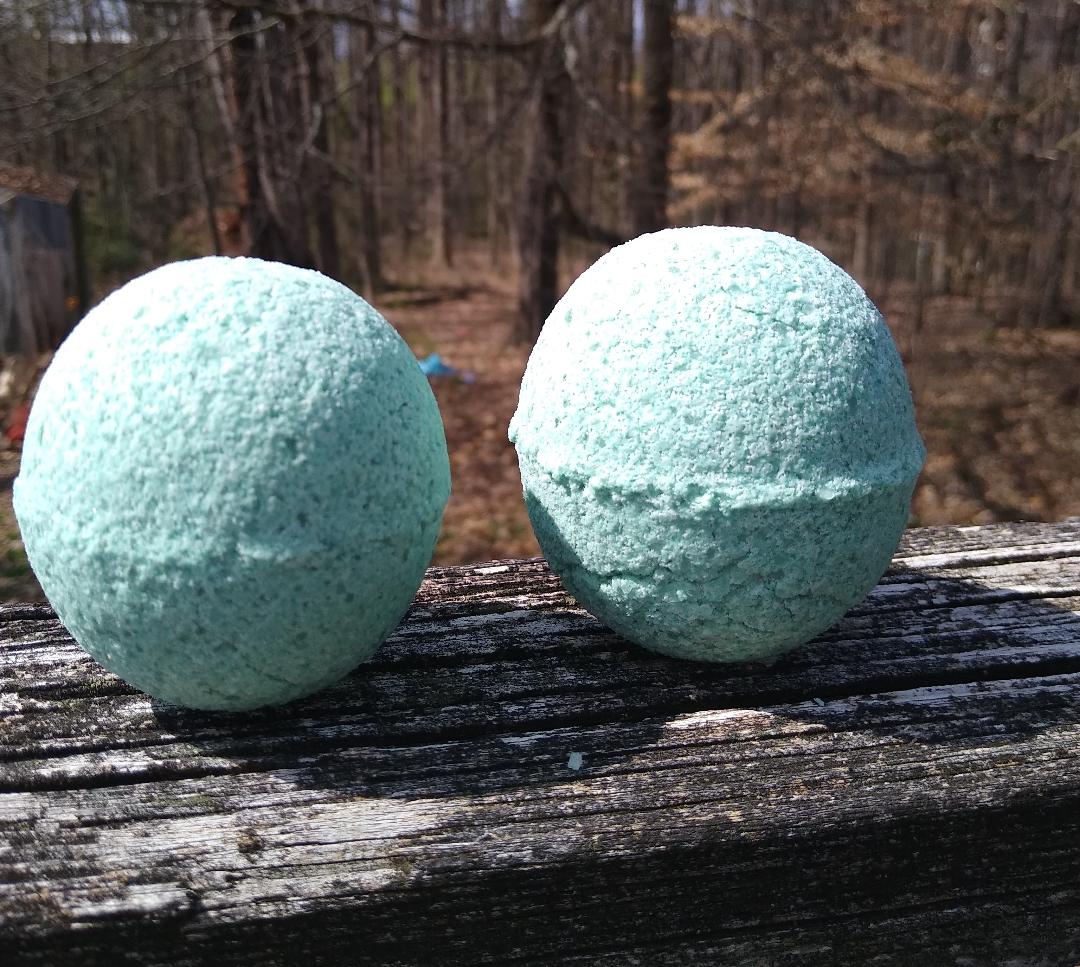 The fresh smell of apple blossoms in full bloom mixed with fresh vanilla.. need we say more? We've blended apple blossoms premium fragrance with pure vanilla essential oil to create some bathtime aromatherapy magic for you!! If you love the smell of fresh florals, you will love the latest addition to our bath bomb catalog!!


JUICY ORANGE BATH BOMB: $5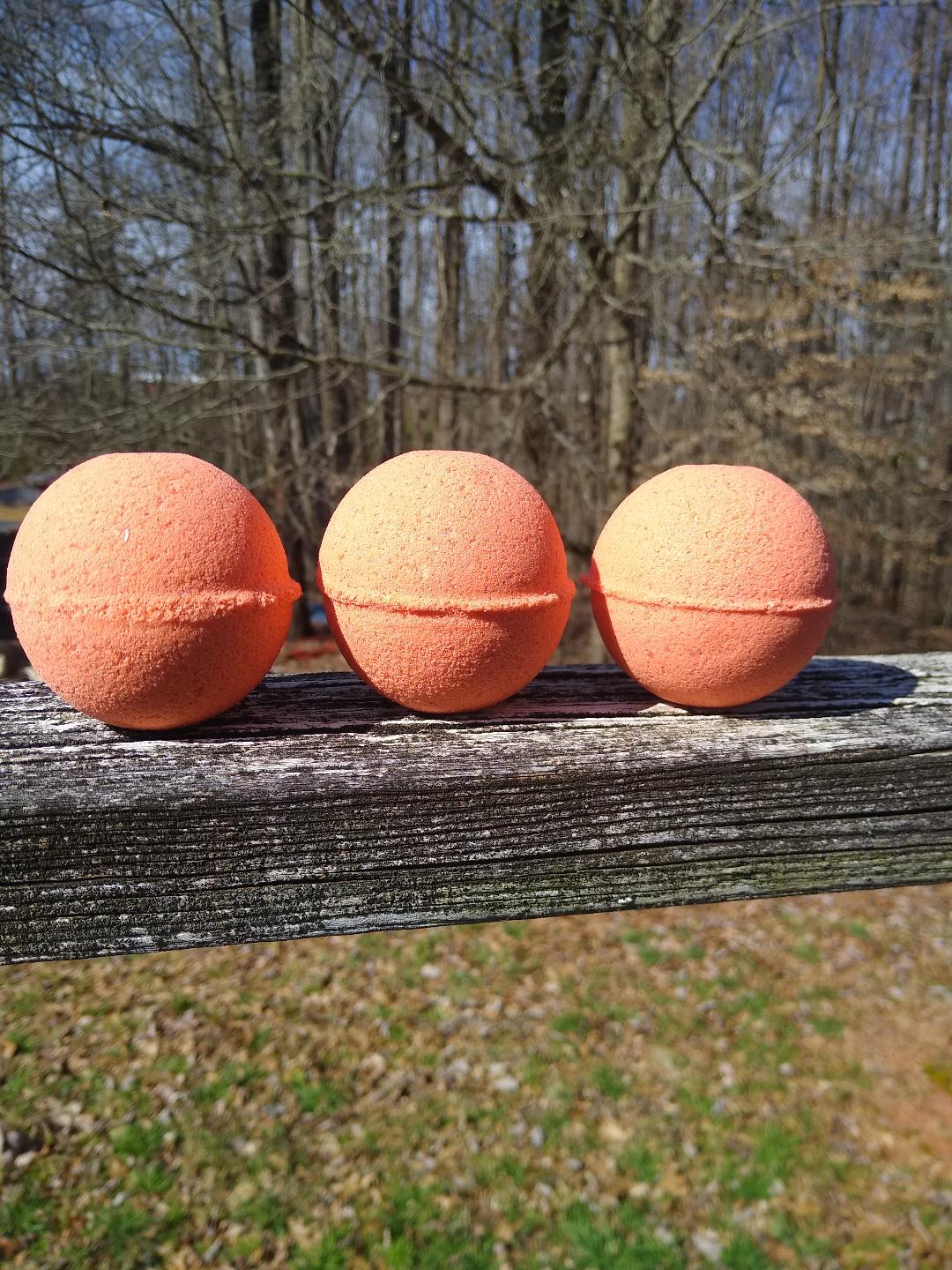 Packed full of our pure orange essential oil, you'll love this pleasant scent which has a cheerful and uplifting yet simultaneously relaxing and calming effect. This popular & well-loved fruity bomb is one of our very favorites!! It can not only create a warm environment but can also stimulate the strength and resilience of the immune system and eliminate airborne bacteria. Also good for the treatment of acne, chronic stress, and other health concerns.


ORANGE VANILLA CREME BATH BOMB: $5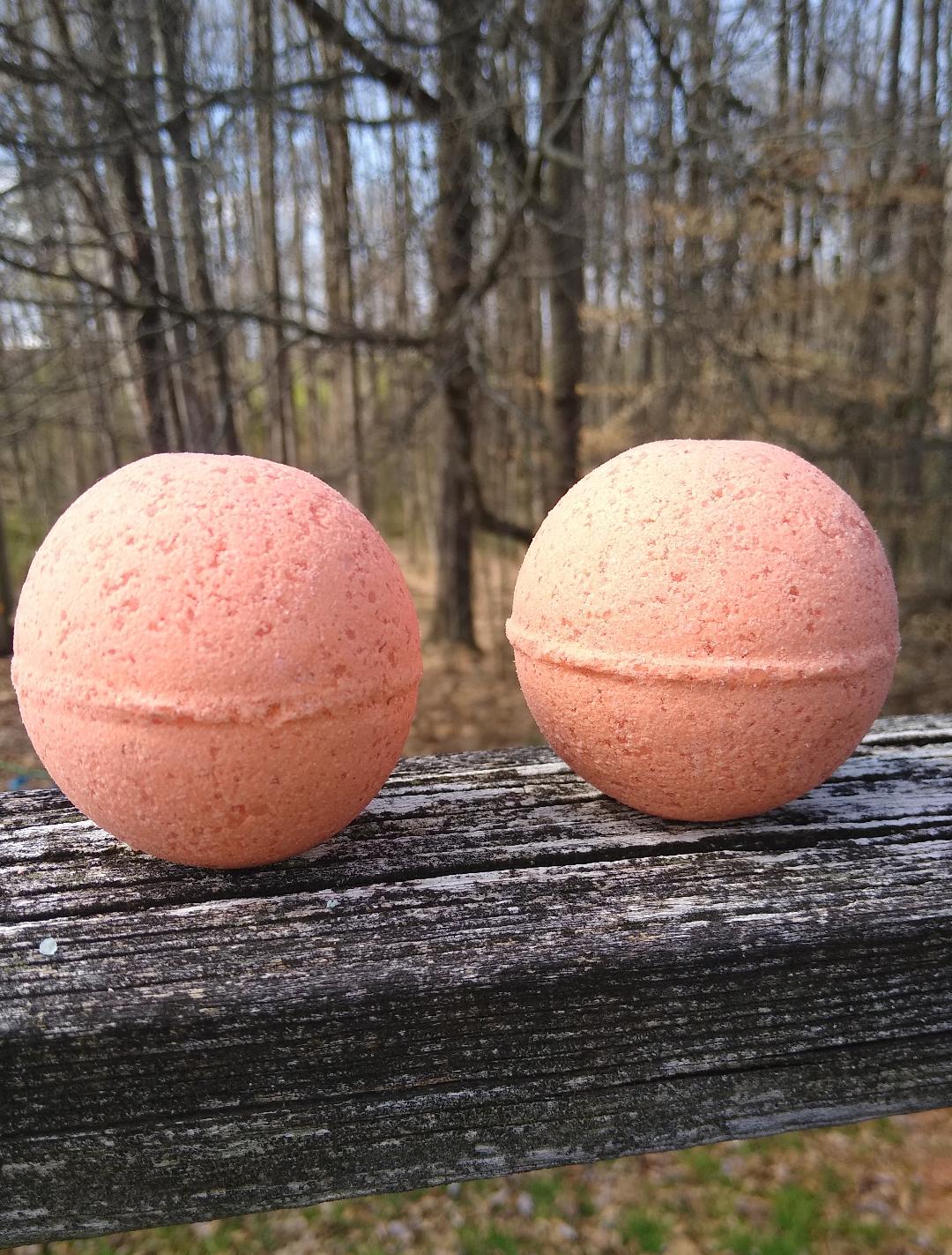 We've taken our regular orange bath bomb and we've added some pure vanilla essential to create a masterpiece we think you will thoroughly enjoy!! Absolutely beneficial for maintaining the health, appearance, and texture of skin by promoting clarity, radiance, and smoothness, thereby reducing the signs of acne and other uncomfortable skin conditions.
JUICY LEMON BATH BOMB: $5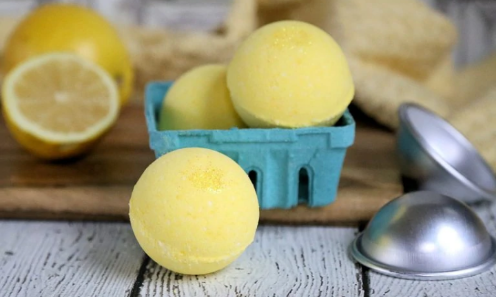 Super fresh smelling bomb that all of our Citrus lovers will thoroughly enjoy!
Packed full of our pure lemon essential oil, you'll not only love the inviting fresh smell, but also the many benefits of the refreshing, energizing & uplifting scent! The health benefits of lemon oil can be attributed to its stimulating, calming, astringent, detoxifying, antiseptic, disinfectant and anti-fungal properties.Lemon essential oil can be used to ease stress, elevate mood, stimulate the immune system, alleviate pain, and promote weight loss.


LAVENDER DREAMS BATH BOMB: $5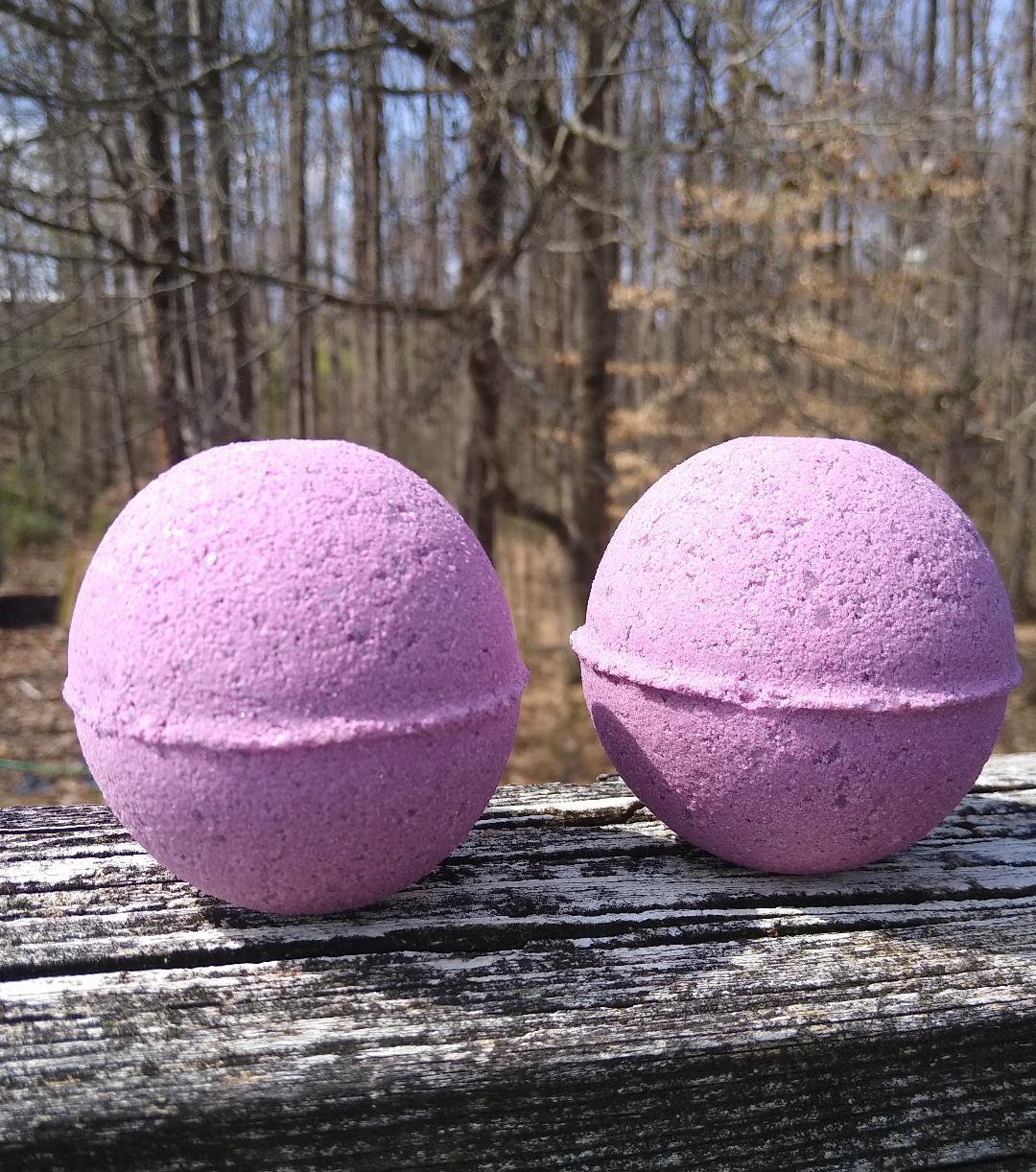 Based on our best-selling soap bar of the same name, this bath bomb is packed full of pure lavender essential oil, this will surely satisfy any lavender enthusiast! These bombs patch some serious aromatherapy!! If you love lavender like we do, this is YOUR bomb!! Lavender is sometimes used as a home remedy for skin inflammation and burns, and the essential oils in this bomb will help with inflammation and dryness. A recent study in 2012 showed that essential lavender oil used on skin inflammations with great success, as it reduced inflammation and sped up the healing process!
MERLIN'S MYSTICAL FOREST BATH BOMB: $5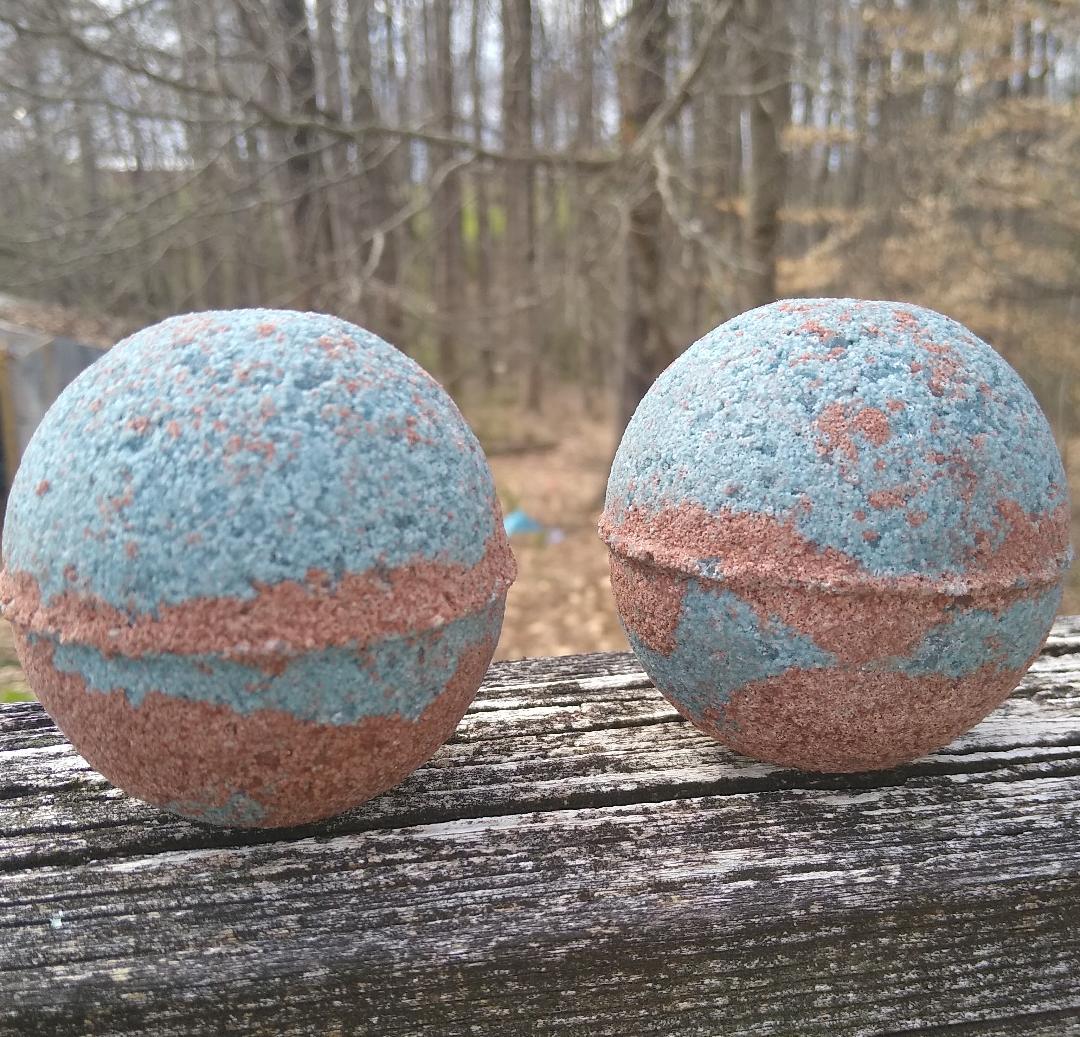 OUR GUY BOMB! Based on our bestselling homemade soap bar of the same name!! Cedar spice mellowed by sultry amber, then wild briar rose entwined with zesty bergamot makes a grand first impression!! As you stroll through the mystical pine-tree forest, you gradually become enveloped in a mellow mist of serenity. This bath bomb has already been incredibly popular with our guy testers (...and the men/women who love them!!!) and has a really good masculine smell, and premium Epsom salts for chillaxing after a long, hard day.


PATCHOULI COVEN BATH BOMB: $5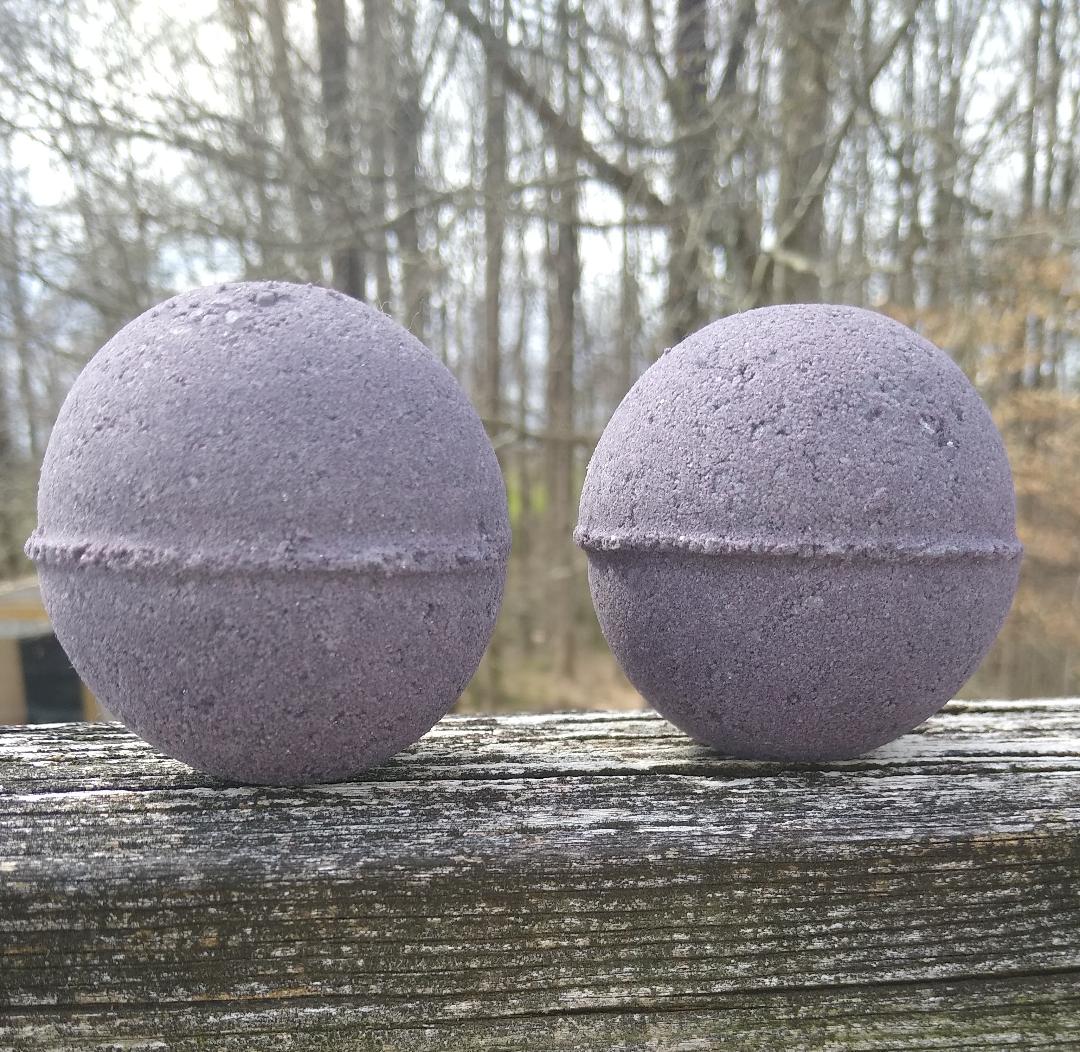 We made these so that when you pop them in the bathtub, they will make the most awesome black and purple swirl. Packed full of pure Patchouli essential oil which has numerous health benefits, including but not limited to: treating skin conditions such as dermatitis, acne, or dry, cracked skin, as well as easing symptoms of conditions like colds, headaches, and stomach upset. Scientists have proven that it helps in relieving depression, and it can provide feelings of relaxation in helping to ease stress & anxiety.


FEELIN GOOD BATH BOMB: $5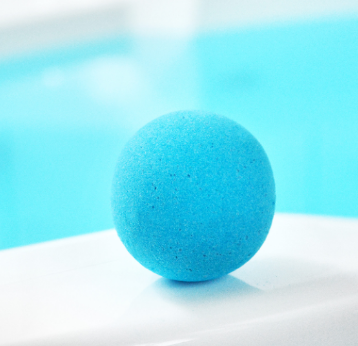 Based on our best-selling soap bar of the same name!! A wonderful exotic blend of raspberry, cantaloupe, and watermelon with a twist of jasmine and violet, and a hint of grapefruit and kumquat. Amazingly clean & fresh smelling, we think this will become one of your new bath bomb favorites. This is one of my favorites, as I love the clean & fresh smell that this bomb gives off. This makes the whole bathroom smell like it's just been cleaned by the Patron Saint of Freshness. I find this particular bath bomb to be especially motivating in the mornings, and after a long day of work. This particular scent is popular with our adult and kid soapsters!!


NAKED CREAMY VANILLA BATH BOMB: $5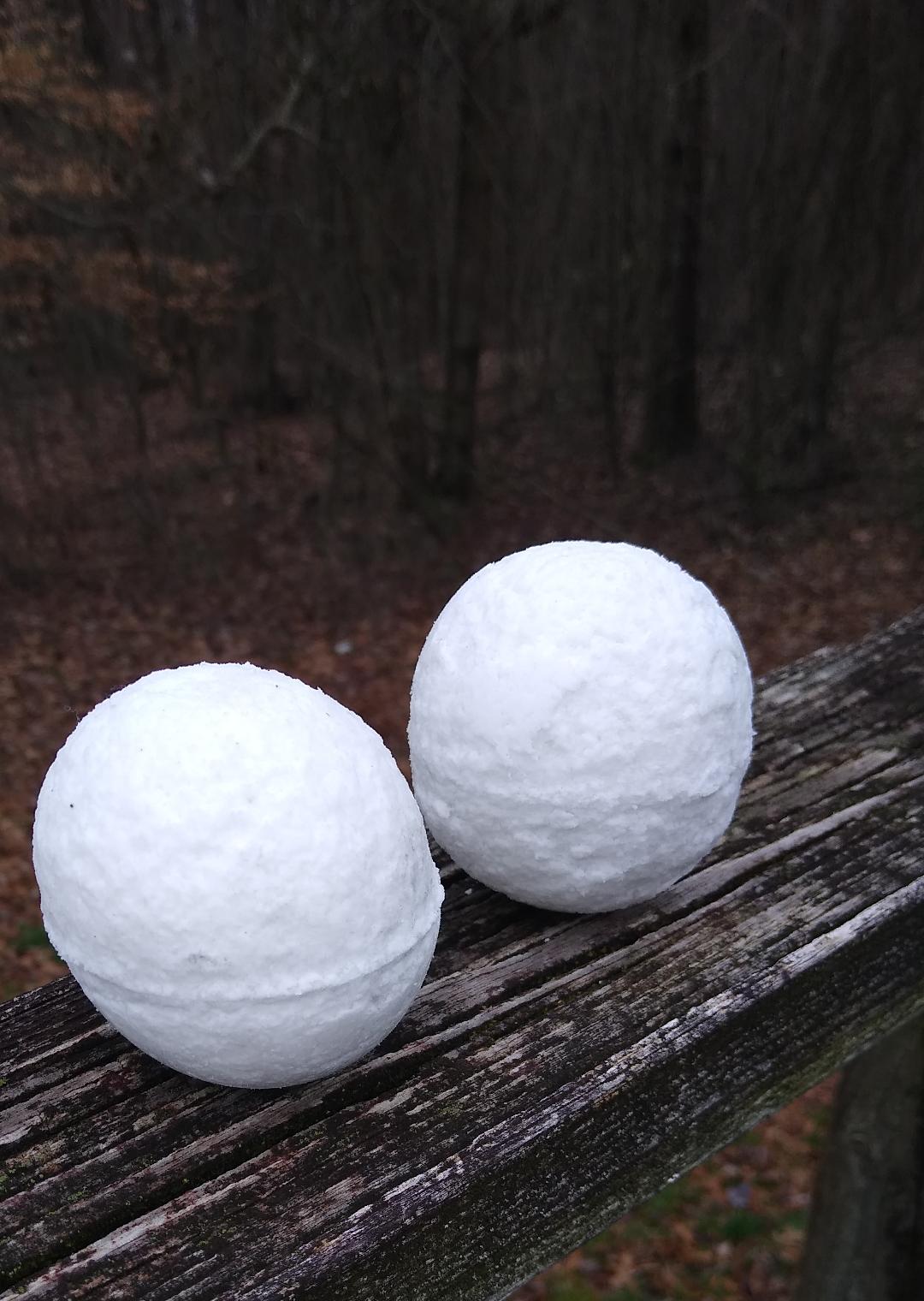 Without colors or dyes, this is straight up magic in your bathtub! Packed with pure vanilla essential oil, fresh spring water, premium Epsom salts to soak your aches and pains away, and pure olive oil to moisturize your skin, we think this one will be a fast favorite!! Pure vanilla essential oil contains many benefits including relieving PMS Symptoms, Fights Infections, can help with depression, reduces inflammation, helps lower Blood Pressure, and more.
THIRD EYE BATH BOMB: $5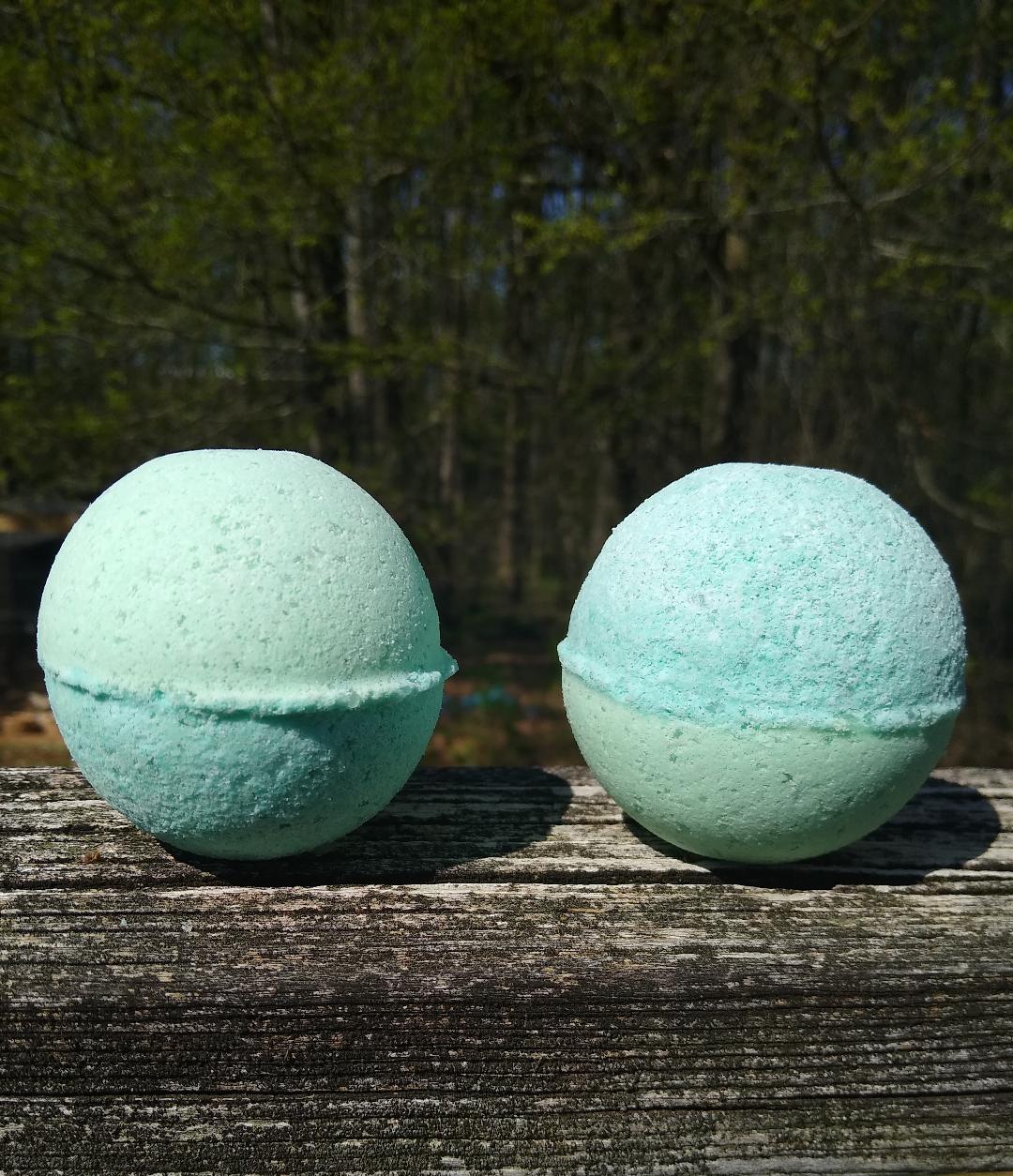 Need a wonderfully skin softening, soothing handmade bath bomb with some serious aromatherapy properties? WE GOT YOU COVERED with our THIRD EYE BATH BOMB!! Based on the amazing fragrances of our bestselling soap bar of the same name, we think this bomb will quickly become a fan favorite!! And why shouldn't it? It's got some of the best essential oils on the planet to help you with your mind, body and spirit!! Our THIRD EYE bath bomb is great for mental clarity and emotional wellness. Packed full of pure spearmint, frankincense & eucalyptus essential oils, this bomb will surely get you motivated and it helps to wake up all your senses! Lightworkers and empaths will love this bomb because of the intuitive oils within it - frankincense improves mental clarity, while the eucalyptus gives you an immediate mental lift, and the spearmint rounds these essential oils out with a sweetness that makes for a lovely bathing experience! You won't want to get out of the bath!! And why should you? Pamper yourself! Treat yourself to the good life with Chriannii!!

___________________________________________________________________________________________________________________________

PREMIUM SPA BARS
WINTER QUEEN PREMIUM SPA BAR: $7
(Compare to Snow Fairy by Lush®)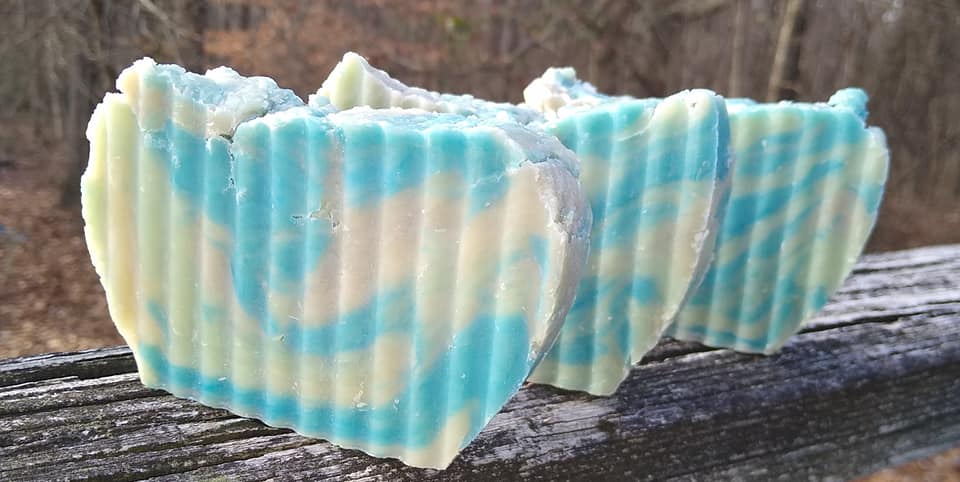 The fragrance of this bar features fresh pear, sweet notes of cotton candy mixed with delicate vanilla & fresh cherries!! These bars remind me of a winter spa vacation to a snowy forest full of peace & contentment! This spa bar will remind you of some of your favorite scents from different times in your life. Incredibly moisturizing and conditioning, you'll feel pure heaven the moment this bar caresses your skin!! You'll love how creamy the lather is in these bars!! They leave your skin feeling smooth, glowing & radiant!!! Available in our regular size bars of 4-5 oz. Ingredients include coconut oil, castor oil, soybean oil, lard, vegetable shortening, beeswax, fresh spring water, natural colorants & premium fragrances
CHERRY STRAWBERRY LOVE PREMIUM SPA BAR: $7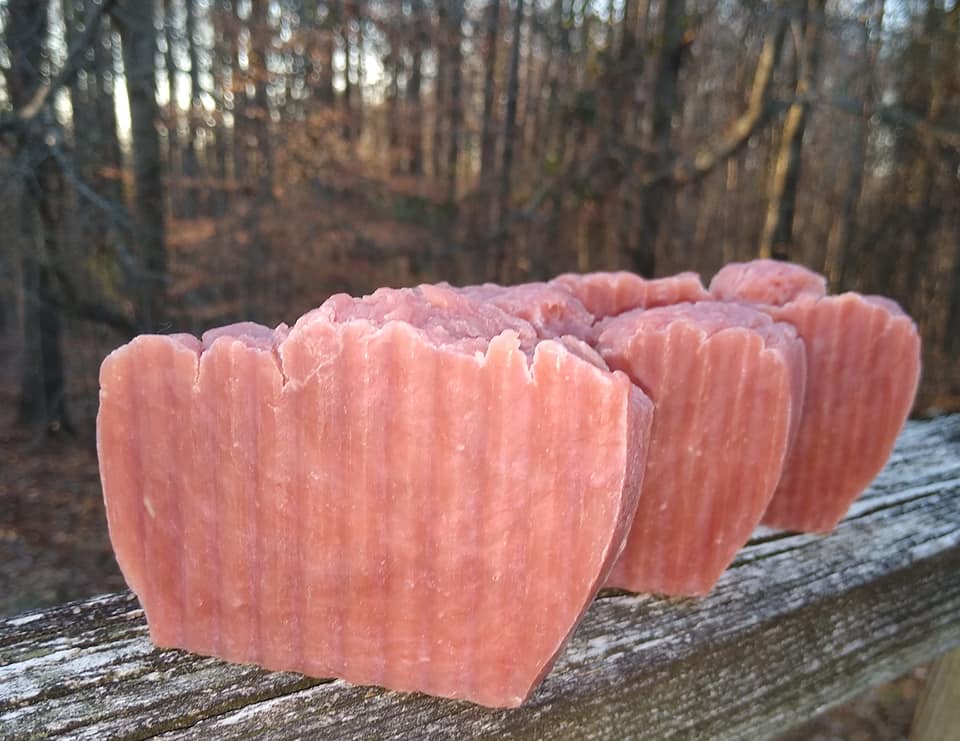 Some scents are born to be combined together for maximum aromatherapy enjoyment, and our soapsters tell us that we have a real winner with our NEW Cherry Strawberry Love Premium Love bar. Freshly picked ripe strawberries collide with sweet & juicy cherries provide a most pleasant fruity aroma that you will love to start and end your day with. This bar reminds me of being on a deserted island with nothing but fresh berries and sunshine. This bar packs some serious aromatherapy, and has quickly become a new staff favorite!! We love the creamy cherry strawberry goodness these bars give off, and one of our testers told us 'It literally smells like there are thousands of cherries and strawberries in this bar!! My skin feels so smooth!! I'm ordering more now!!!!' :-) These Bars average 4 to 5 oz, and they include fresh spring water, coconut oil, olive oil, castor oil, almond oil, soybean oil, lard, premium fragrances & natural colorants
LUCK OF THE IRISH PREMIUM SPA BAR: $7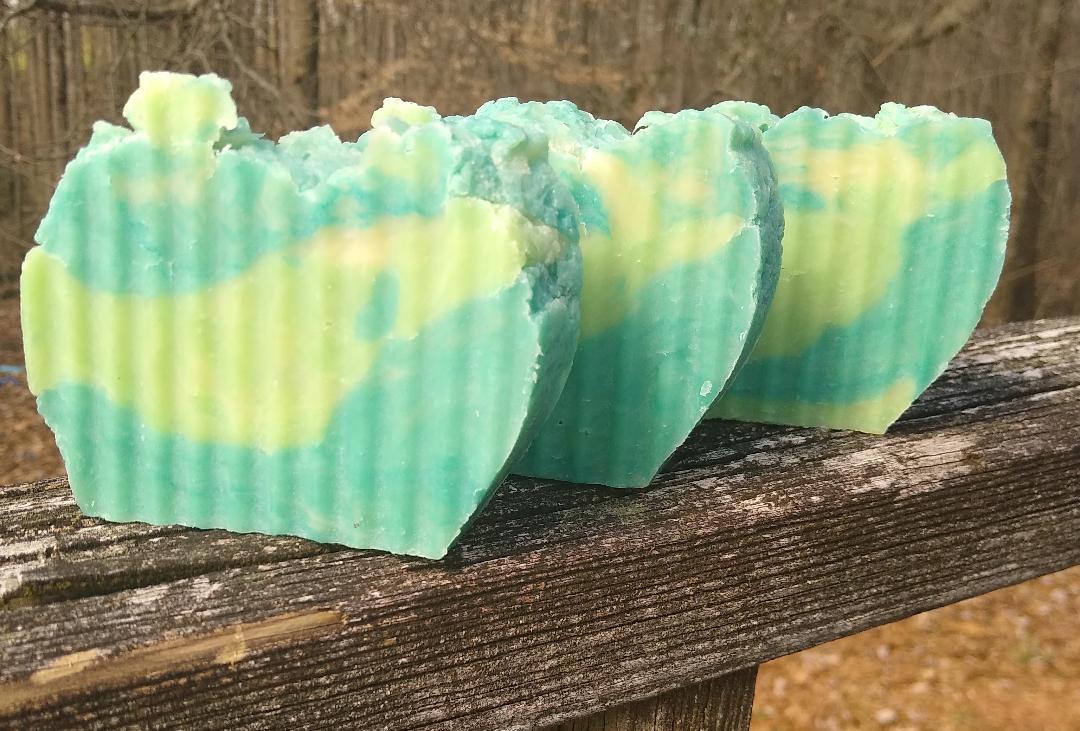 Our version of the ever-popular Irish Spring fragrance!! With our official St Patrick's Day bar, you'll be immediately taken in by the fresh, clean & inviting scent of fresh bergamot & citrus, followed by floral & herbal notes. This bar has been equally popular amongst our male and female soapsters and testers!! We like to think of this bar as our LAKEHOUSE RETREAT bar's creamier cousin!! This is my new favorite bar!! Super creamy and an amazing lather, you can't go wrong with our Luck of the Irish bar!! This bar averages 4-5 oz in size, and ingredients include coconut oil, olive oil, castor oil, almond oil, beeswax, fresh spring water, premium fragrances and natural color.


SPRING QUEEN PREMIUM SPA BAR: $7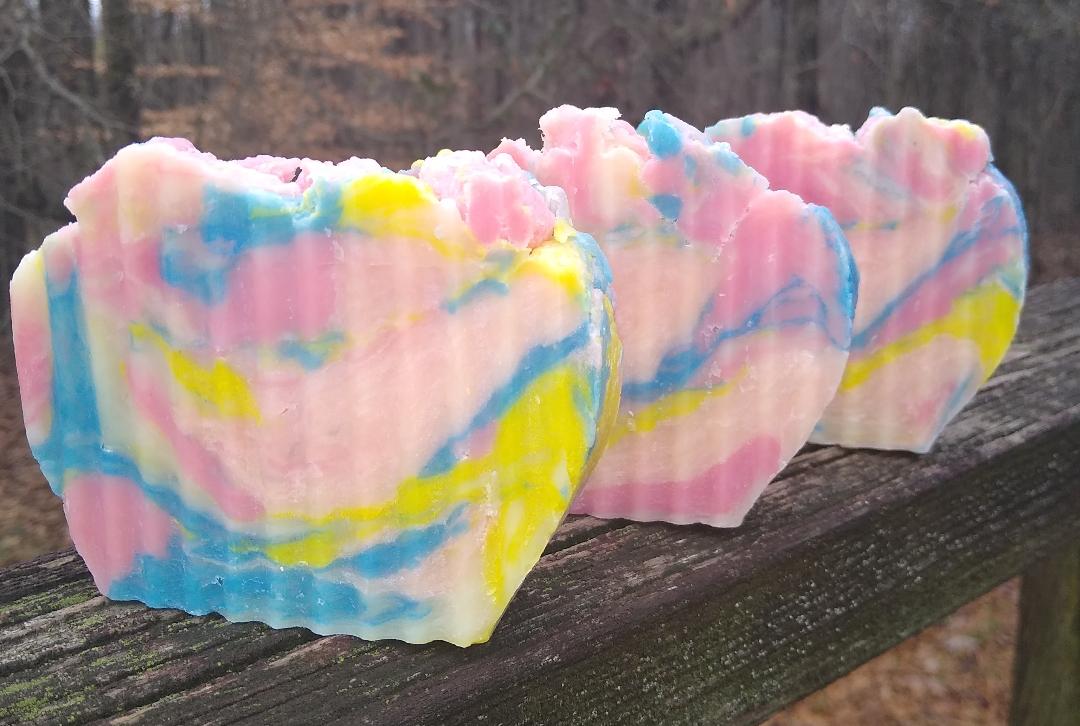 Our version of the popular Daisy Dream Girl fragrance, and one of our most alluring scents!! We've taken fresh Bergamot and juicy Grapefruit and then we blended in some magical Magnolia, fresh Pear, jazzy Jasmine, sensual Sandalwood & White Amber to round out the fragrance in this bar to be pretty ecstatic!! This bar will leave you feeling fresh, clean and ready to conquer your day. This bar also has amazing lather with a fresh and clean lingering fragrance. These bars average 4 to 5 oz in size, and the ingredients include coconut oil, olive oil, castor oil, soybean oil, beeswax, vegetable shortening, fresh spring water, premium fragrances and natural color.

All sales are final. There are no refunds or exchanges.
Gift Certificates are not valid for soap orders. No discounts will be accepted on soap orders.